ADAMTS-13 Antibody Assay
Coagulation
---
Description
ADAMTS-13 (a disintegrin-like and metalloproteinase with thrombospondin type 1 motif 13) is an enzyme (vWF-cleaving protease) that specifically cleaves unusually large vWF multimers (ULvWF) which induce platelet thrombus formation under high shear stress. If the activity is lowered, ULvWF may accumulate within the blood causing thrombosis due to platelet aggregation, which in turn may lead to Thrombotic Thrombocytopenic Purpura (TTP).
---
Sample Type
Plasma (Citrate 2.7ml Blue) x 2
---
Reference Range
Negative samples: <12 U/mlBorderline samples: 12-15 U/mlPositive samples >15 U/ml
---
Turnaround Time
Within 1 day
---
Testing Frequency
On demand
---
External Notes
See ADAMTS-13 Activity and Antibody Assays Referral form
---
Patient Preparation
No special requirements
---
Test Request Form
---
Please note: the above information is subject to change and we endeavour to keep this website up to date wherever necessary.
Your contact for this test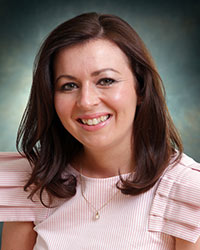 Rebekah Fretwell
BSc (Hons) Medicine and Pharmacology, MSc Pathology
Senior Biomedical Scientist and ADAMTS-13 Section Lead - Coagulation
You are enquiring about
ADAMTS-13 Antibody Assay