Immunology
Leading edge pathology conducted by a dedicated team of highly trained, skilled and specialised scientists
Immunology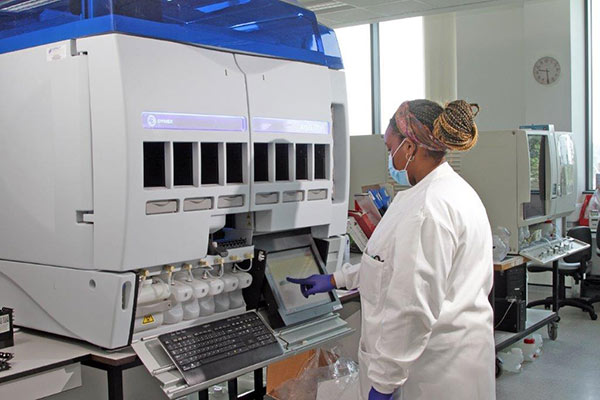 Our Sheffield Protein Reference Unit (PRU) and Immunology Department has a long established expertise in the analysis and clinical interpretation of protein and antibody assays. Our extensive test repertoire includes tumour markers, prenatal downs screening, specific proteins, auto-antibodies, allergy testing and immunodeficiency investigation. We are continually adding new tests to our repertoire. The PRU is part of a Supra-Regional Assay Service.
We provide an analytical and interpretive service for the investigation and diagnosis of immune mediated diseases and measurement of specific proteins to hospitals and laboratories across the UK.
We have specialist expertise in many areas including:
Alpha 1 antitrypsin phenotyping and genotyping

Complement system analysis (quantitative, functional and C4 genotyping)

Functional antibody testing for assessing vaccine responses

Flow cytometry for immune deficiency

Allergy - over 800 allergens available

Tumour markers

Faecal Immunochemical Test (FIT)

Pre-natal foetal aneuploidy screening

Immunoglobulin analysis by electrophoresis of serum and urine samples

Analysis of CSF for oligoclonal bands

Specific proteins including immunoglobulin free light chains

Comprehensive range of autoantibody tests

We are currently the only UK NHS laboratory to offer testing for urine prostaglandins, urine methylhistamine and bradykinin.
All of our laboratory tests where appropriate are UKAS accredited to international standards (ISO15189:2012) which specifies essential quality management system requirements.
Our full compliance ensures that we subscribe to accredited External Quality Assurance (EQA) schemes for all our tests where they are available or an alternative (inter-laboratory comparison) if there is no EQA scheme.
Summaries of EQA performance can be provided to assure prospective users of our continued high quality service. Our policy is to apply for extensions to scope for all new tests as they are added to the repertoires.
"I must take this opportunity to thank Sheffield Immunology for their support and the quality of service we have received. This has significantly improved the service for our patients over the past 2 years. We approached Sheffield at a time when we needed a fast resolution and have been grateful for your team's responsiveness throughout this period. Very many thanks for all your help and support." - Milton Keynes University NHS Foundation Trust
The department has a Consultant led team of Clinicians and Clinical Scientists who provide high quality interpretive advice on test results.
If you would like to know more about how we can help you, please contact us by telephone on 0114 226 7666 or email us at sth.labmed@nhs.net
Department Specific Tests