Haematology & Blood Transfusion
Leading edge pathology conducted by a dedicated team of highly trained, skilled and specialised scientists
Haematology & Blood Transfusion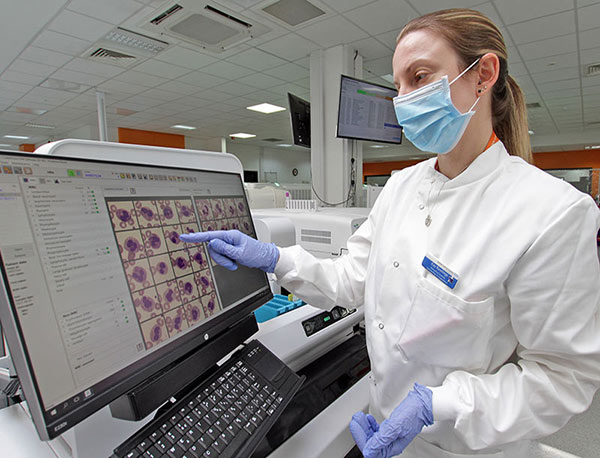 Haematology and Blood Transfusion provides a specialist diagnostic, support and monitoring service to inpatients, outpatients, GP's and other hospitals locally and nationally.
The service is fully integrated into National and Regional quality assurance schemes.
The department is fully UKAS accredited.
The department offers services including:
A state of the art Haematology service capable of a wide range of routine and specialist tests including morphology, investigation of malarial parasites, and plasma viscosities.
Haemato-Oncology Diagnostic Services (HODS) as recommended in NICE Improving Outcomes Guidance for Haemato Oncology diagnosis and monitoring, incorporating our flow cytometry department.
Comprehensive red cell investigations including rapid G6PD screening and a national referral service for identification of Hb variants by mass

spectrometry

which complements its position as a NHS Sickle and Thalassaemia Screening Programme laboratory status.
Blood Transfusion supports a wide range of hospital services including the Northern General Trauma Centre, a well established transplant programme and the assessment of Foeto-maternal haemorrhage by flow cytometry.
In addition, the Haematology Department has close working relationships with UKNEQAS for Leucocyte Immunophenotyping.
If you would like to know more about how we can help you, please contact us by telephone on 0114 226 7666 or email us at sth.labmed@nhs.net
Department Specific Tests