Histopathology
Leading edge pathology conducted by a dedicated team of highly trained, skilled and specialised scientists
Histopathology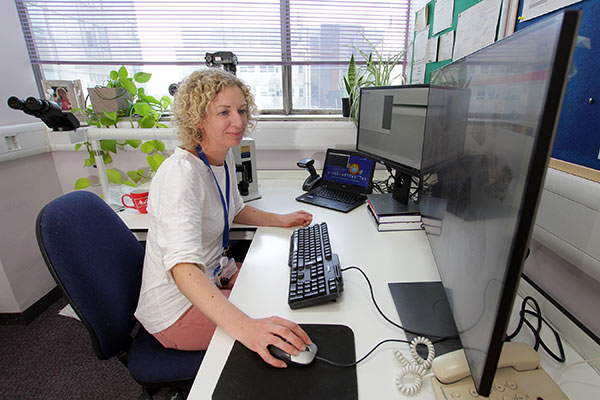 We provide comprehensive diagnostic and interpretative services for Sheffield Teaching Hospitals, Chesterfield Royal Hospital, Community Health Clinics, General Practitioners, local Private Hospitals, Sheffield Universities as well as other NHS hospitals.
Our service incorporates both routine and specialist Histology including Neuropathology, Diagnostic Cytology, Oral and Maxillofacial Pathology, Diagnostic Cytology, Electron Microscopy, Mortuary and Autopsy services. We are a referral centre for the South Yorkshire, Bassetlaw and North Derbyshire Cancer Alliance Network, a part of the national Choriocarcinoma Screening Service and also highly specialised Ophthalmic Pathology Service.
Our department is fully accredited to ISO: 165189.
Specimens include Biopsies, Surgical Resections, Diagnostic Cytology and Post Mortem Examinations. We operate across three laboratory sites; the main processing site located at the Royal Hallamshire Hospital with a satellite service at Chesterfield Royal Hospital and a specialist frozen section service at the Northern General Hospital. We offer an extended range of immunohistochemistry assays to our host Trust, local network and other laboratories.
There is a close liaison with the Sheffield University Department of Pathology and there are active diagnostic and research programmes including:
Transmission electron microscopy
Immunohistochemistry
Image Analysis
Molecular Biology Techniques
Specimen Radiology
Mineral fibre quantitation
Our Electron Microscopy service provides ultrastructural expertise in renal, muscle and nerve pathology, oncology (adult and paediatric) and genetic disorders such as cilia, lysosome and collagen disorders.
Ophthalmic Pathology at Sheffield Teaching Hospitals NHS Foundation Trust is a part of the National Specialist Ophthalmic Pathology Service (NSOPS). There are four NSOPS laboratories based in Liverpool, London, Manchester and Sheffield. Funded by the National Commissioning Advisory Group (NCAG) we are national referral centres of all ocular pathology specimens. In Sheffield we have dedicated ophthalmic pathology staff situated within the Histopathology department, comprising a Consultant Ophthalmic Histopathologist, Chief Biomedical Scientist and an Advanced Biomedical Scientist.
Histopathology in association with our Microbiology and Virology Laboratories, also provides medical, managerial and scientific support, testing and advice for the Sheffield Teaching Hospitals Bone Bank Facility which is licensed by the Human Tissue Authority. Donated bone [femoral head] is stored and tested in line with HTA regulations for eventual use by Orthopaedic surgeons when performing hip replacements.
If you would like to know more about how we can help you, please contact us by telephone on 0114 226 7666 or email us at sth.labmed@nhs.net
Department Specific Tests